Seattle might (might!) not be the only team entering MLS in 2009.
The long-running battle between Philadelphia and St. Louis for the 16th expansion slot may have just been won by those from the land of cheesesteaks and obnoxious sports fans. The state of Pennsylvania has just announced that they're cool with giving about 50 million dollars for building a brand new soccer stadium in a Philly suburb. This is in addition to 30 million dollars of county money.
There's plenty of time remaining before the 2009 season, and having Philly and Seattle join at the same time would give the league a friendly number of 16 teams. Philly would have to play in a temporary home for one year, but the University of Penn Stadium would probably work as a decent option.
However... based on what Commissioner Don Garber has said in the past, MLS would prefer to have the next team open in their own stadium, making it probable that Philly doesn't start until 2010. On the other hand, he kinda changes his mind all the time, so don't rule out a 2009 start for the club-to-be.
Philly's proposed stadium: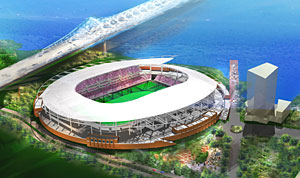 Kinda looks like a toilet seat...
(but still cool.)
Click here for the MLSnet article.